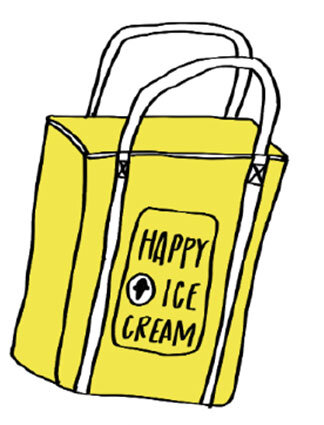 About Our Party Bag
25-50 Scoops
Perfect for smaller orders, the Melt Party Bag can accomodate 25 - 50 single serving scoops of any of our available flavors.
The best part? All party bag orders of 25 scoops or more come with a complimentary insulated Melt bag!
See The Party Bag in Action
Frequently Asked Questions
Do we provide spoons/napkins?
How many flavors can we get?
Party bags have no limit to the amount of flavors you can choose; we'll just need to know how many scoops of each flavor you'd like. For the happy cart/cooler, please order in increments of 50 scoops per flavor.
Price per serving?
Party Bags and Happy Cooler pick up's are $3.75 per scoop; Happy Cart and Joy Ride scoops are $4.00 per scoop.
How many flavors can we choose from?
We recommend not overwhelming your guests with too many options, for the cart and coolers we require quantities of 50 per flavor. The Joy Ride traditionally scoops up to six flavors.
Do we deliver party bags?
While we don't personally deliver them, you can order Party Bags for delivery through Favor.
Do I need dry ice?
If you are booking our Happy Cooler, we recommend dry ice if your scoops need to stay frozen for a long period of time or will not be consumed immediately. You have a short window before the scoops MELT depending on how cold/hot it is outdoors.
We do not produce or keep dry ice in our facility so you will responsible for purchasing it off site. The Joyride and Happy Carts do not require dry ice. Party Bags are meant to be quickly transported and immediately enjoyed so dry ice is not recommended.
Ready to order your party bag?
Give your local Melt store a call to place an order!
Please note: Orders over 50 scoops require a 24-48 hour notice.